WATERSHED
May 12-August 18, 2023

City Hall Gallery, O'Fallon, MO

Watershed is a mixed media exhibition of sculpture and print works made in the past four years by Alabama-based artist Kristen Tordella-Williams. Watershed connects to the landscape, and how it is shaped by water and its currents, as in the Mississippi River watershed, but also refers to a moment of change. We are on a precipice both politically and environmentally and are all interconnected in seen and unseen relationships. The works that make up Watershed use a variety of materials and forms both natural and synthetic to make visible the impact industry and its associated labor has on our bodies, environments, and communities. Scarring of the land and body are represented in Scar I-X, industrial encroachment on natural processes in Industrial Amber, Event Horizon, and Watershed, and the interaction between our culture's folklore, labor and activist movements, and artistic production in Material Histories and Positive/Negative. 40 Silos discusses industrial farming, precipitation, and its sculpting of the landscape both on water and land while Requiem and Spring Timeline Septet explore the power of art and natural inspiration to speak through time.

The works together have common materials including the artist's paper made from her used denim work pants, CNC plasma cut display structures, and the use of industrial materials like rust or epoxy resin combined with contemporary digital practices. Visually, the aesthetic is dominated by a palette of blue skies and reflected water as evidence of the hand papermaking process contrasting with warm tones of rust, amber, and laser etched surfaces. Living in a post-industrial American landscape, we are familiar with the architectural ghosts of the industrial revolution and are experiencing the environmental fallout from the labor of millions. The multiple works in Watershed illustrate the layers of the present on our politics, environment, and bodies overlaid on the remnants of past labor and laborers.



Installed in working city hall, the exhibition will be seen by thousands of residents and city employees. This provided a special challenge as the work 40 Silos was censored due to citizen complaints about the phallic nature of the castings. Thanks to Cultural Manager Marty Linson, the piece was reworked into 40 Fallacies.

40 Silos/40 Fallacies

40 Fallacies
"A mistaken belief based on an unsound argument."
Painted steel, painted wood
15'x6'x3"
2023
40 Silos
Cast aluminum, tool dip, epoxy, painted steel
15'x6'x3"
2019/2023
Spring Timeline Septet
Unique screen prints on silk handkerchiefs, steel
Each handkerchief is 20"x20"
2021/2023
More photos and prints from this series:
Fallen Lines
Requiem
Embossed Edna St Vincent Millay sonnets and flowers on artist made denim paper, rust, steel, magnets
Each print is ~9"x12", full installation is 75"x35"x4"
2022

Watershed

Laser etched artist made double couched Alabama cotton and denim paper, resin, magnets, steel
~56"x72"x10"
2023

Material Histories

20 cyanotypes on BFK Rives cotton paper, clothesline, clothespins, nails
12'x4'x4"
2019-20
For more photos and information: Paperwork

Event Horizon

Cast pigmented resin and insects, wood and aluminum shelving
53"x12"x7"
2023

Positive/Negative

Bleach screen prints on artist made denim and black denim paper
10 pairs of unique 8.5"x11" prints, with frames, 18"x12"
2023

Industrial Amber

Cast pigmented resin and insects
7.5'x2'x2-4"
2020-2021
For more information and photos: HOME//WORK

Scar I-X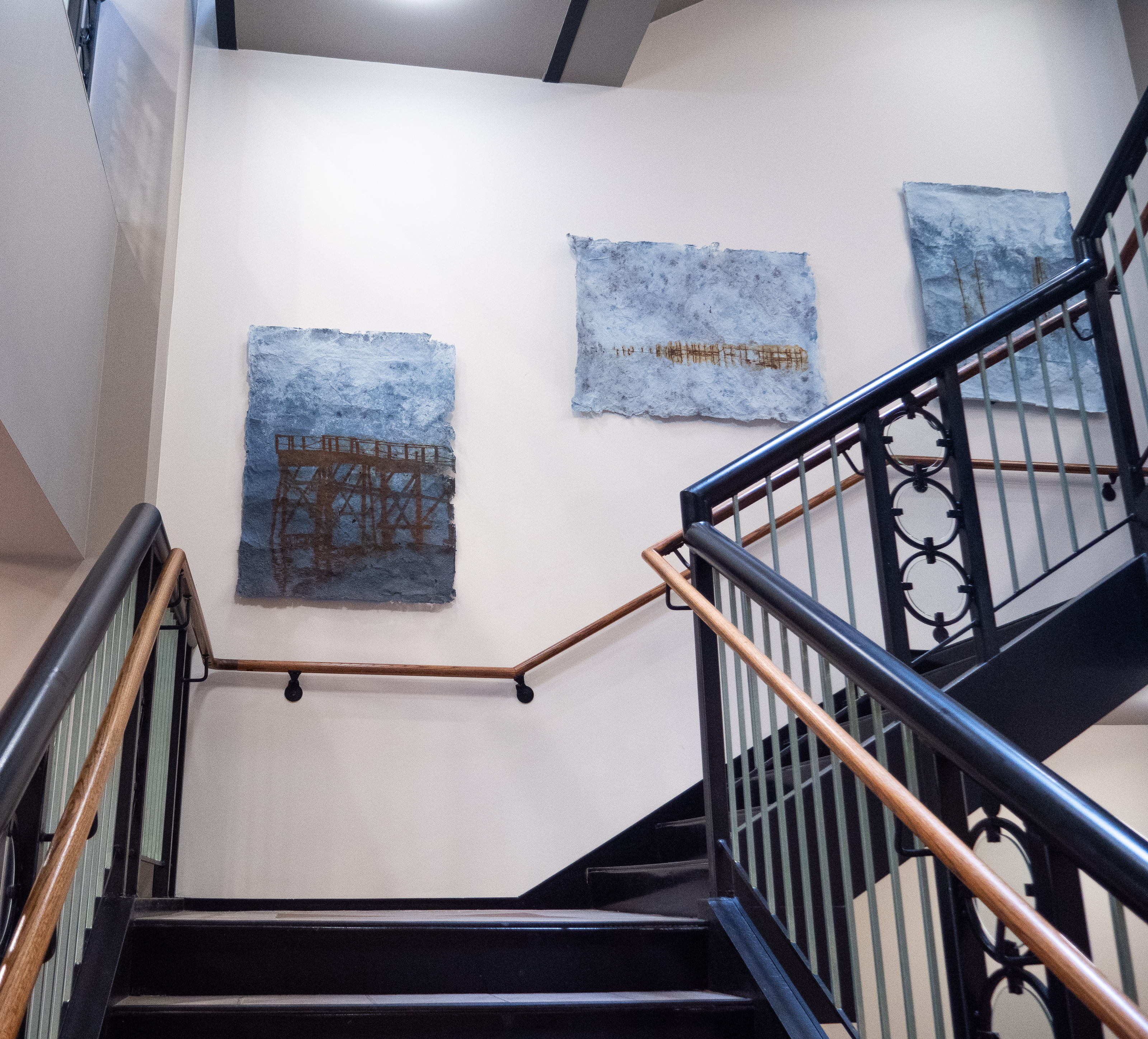 Rust on artist made denim papers, magnets, steel brackets
Either 3'x4' or 4'x3'
2022
For more information on this suite:
Tides Institute